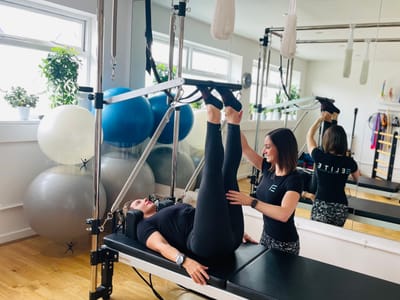 Lindsey developed a passion for treating musculoskeletal and sporting injuries during her time as a full-time athlete competing and medalling for Team GB in ice dance. It was during this time she took up Pilates as a form of conditioning and treatment and was amazed by the benefits to not only protecting her from lower back niggles but the impact it had on her power. After a few years performing as a professional in shows such as 'Dancing on Ice' in Holland and Belgium and with Olympic and World Champions Lindsey decided to take a new path to help athletes like herself.
Lindsey graduated from the University of Salford in 2011 with a BSc in Sport Rehabilitation, a PG in Strength and Conditioning through the NSCA and completed her mat and equipment Pilates teacher training with APPI. During her degree she gained experience in both the UK and the USA with Northern Ballet Theatre, Macclesfield Rugby club, Olympic Medal Team GB Swimmers, Minnesota Dance Medicine Foundation, Minnesota Orthopaedic and Sports Medicine Institute, and as an Athletic Trainer with Division II Collegiate Sports Teams. Lindsey went on to work in an array of settings; private clinical practice, Defence Medical Services, Australian Physio and Pilates Institute, and worked with professional and amateur Dancers and Athletes.
During 2013-2015 Lindsey was an Officer on the Executive Committee for the British Association of Sport Rehabilitators and Trainers (BASRaT) during which time Sport Rehabilitation became formally recognised as a health care occupation by the Professional Standards Authority (PSA) for health and social care, set up by the DofH.
Lindsey started sub specialising in women's health and ante/postnatal care in 2013 and has trained with women's health specialists and urogynecologist's in the treatment of diastasis recti (abdominal separation) and pelvic floor conditions such as prolapse and incontinence.
In June 2015 Lindsey opened Clinic Equilibrium Pilates Studio and in January 2017 she opened Elite Physio and Therapy Clinic in Bowdon. Lindsey has the first UK VESy lab where she is able to assess with EMG screening for conditions of the pelvic floor and for an array of sports screening.